US President Donald Trump arrived in Montoursville to attend his last gathering in Pennsylvania on Saturday night in the run-up to the election and announced his signature of an executive order to protect hydraulic fracturing earlier in the day. Trump attended four rallies in Pennsylvania, likely to win the presidential race.
Trump started his latest rally by saying that Democratic presidential candidate Joe Biden will "raise your taxes" by $ 4 trillion.
He also highlighted the $ 2 gas price before saying that he had signed an executive order earlier on Saturday to "firmly protect your country from destroying the cracking and energy industry."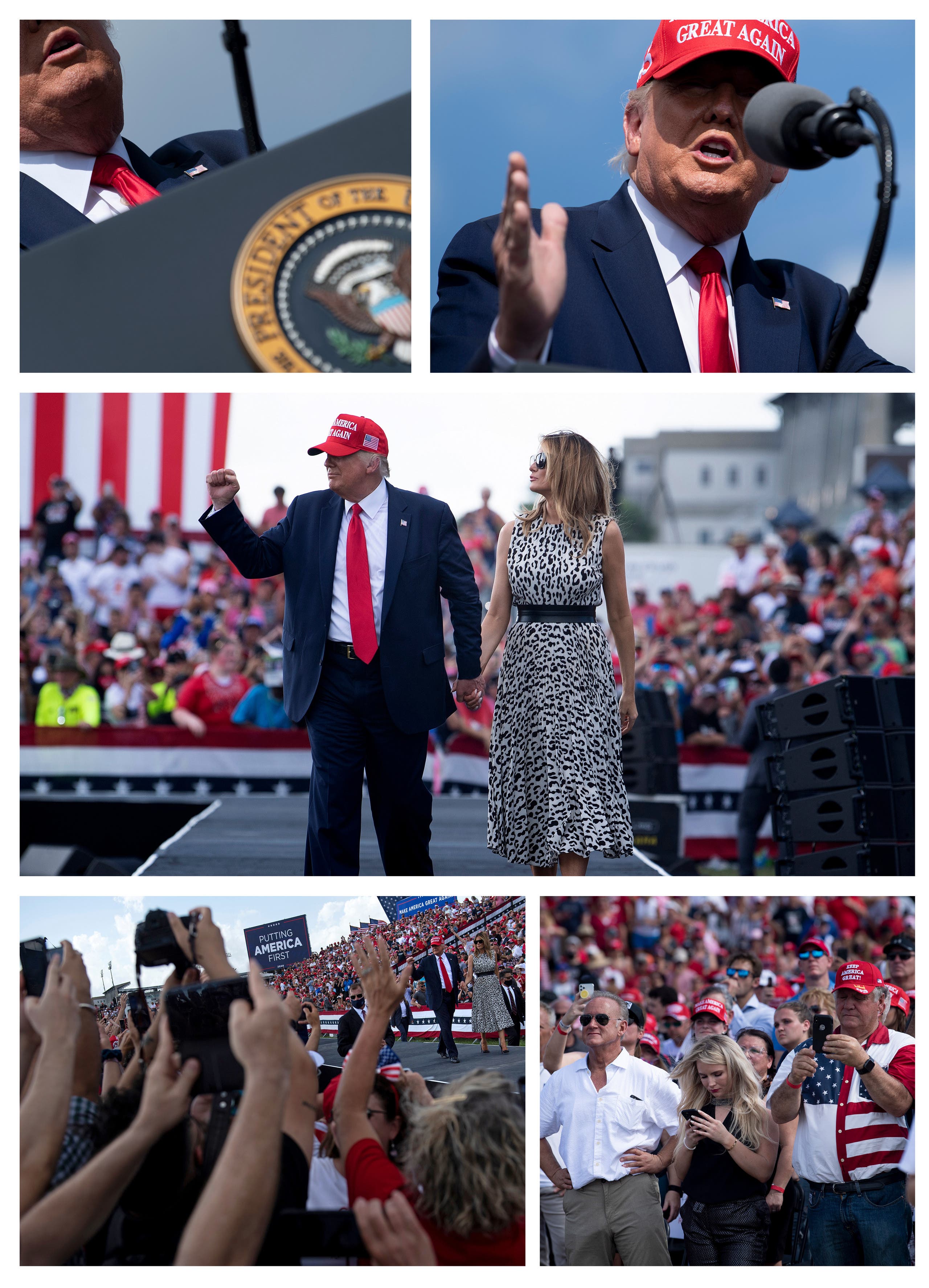 Trump announced the job rate on Saturday, then referred to a Gallup poll, saying Americans are happier today than under the administration of former President Barack Obama and Biden.
The president's comments come after former President Barack Obama said earlier the same night that manufacturing in the United States had risen 15 percent under his administration over the past four years, while it was said that it had risen by 1 percent during Trump's presidency. But the latter said Biden had stabbed a knife back in Pennsylvania "when it comes to manufacturing in Keystone."
The Wall Street Journal reported on Tuesday that Trump was studying an executive order halting any efforts to prevent fracking and the shale oil industry, gathering information from the Office of the US Trade Representative and the Treasury Department about how fracking affects the economy and trade and highlighted the consequences of the judiciary. On the technology that uses drilling to extract gas and oil.
"Moments ago, I signed an Executive Order to protect hydraulic fracturing in Pennsylvania and prevent any effort to undermine energy production in your state," Trump told the audience from Butler earlier on Saturday.
Also, Trump will ask officials from the Energy Department and the Interior Ministry to advise using technology or land administration to expand fracking.
Earlier, Trump took advantage of his opponent's desire to "move" away from the oil industry in Reading, Pennsylvania, telling his supporters that Democratic candidate Joe Biden wanted to "cancel" hydraulic fracturing. He said the former vice president had turned on the oil industry, a major industry in the main swing state.
In March, Biden said in a preliminary debate for the Democratic Party, "No more new hydraulic fracturing, a technology that helps oil and gas companies gain access to gas and oil in sand and rock formations."
Biden has also said repeatedly that he will only raise taxes on people who earn more than $ 400,000 a year. Trump mocked Biden, saying, "Joe Biden is an angry man. You can see the obnoxious way he's shouting in his speeches," adding, "Joe Biden will shut down your economy, he's really shut down in Pennsylvania."
Trump then said the "only way" he could lose Pennsylvania was through an extension to the ballot count until November 6.
On Wednesday, the Supreme Court ruled that Pennsylvania could count votes by mail until the Friday after Election Day, despite Republican objections.
The Supreme Court rejected the Republican Party's request to expedite the decision to ban vote-counting after November 3 – meaning that as long as ballots are mailed to election day, they can arrive three days after Tuesday and be counted.
"We get many disappointing opinions from the Supreme Court. They talk about we're controlling the Supreme Court!" Trump said.
And earlier on Saturday, Trump told his supporters in Bucks County, Pennsylvania, that they had a chance to "save the American dream" by reelection on Tuesday – while warning of "corrupt forces" seeking to replace him with Democratic candidate Joe Biden.
"This is the state in which the story of American independence began – it is the state in which the constitution was signed, think about that – and three days from now, this is the state that will save the American dream." "On the third of November, we will win the state of Pennsylvania, and we will win another four years in that wonderful White House."
Trump spoke at four rallies in Pennsylvania on Saturday. In contrast, Biden spoke at a simple rally in Michigan – and former President Barack Obama joined him in his campaign to support him.
On Monday, the president will stop by in North Carolina, Pennsylvania, and Wisconsin and host two events in Michigan, ending his campaign on election eve in Grand Rapids, a repeat of his 2016 ending.
Biden camp is plotting a storm in Pennsylvania on Sunday and Monday, with Biden and his wife Jill Biden, his running mate Senator Kamala Harris, and her husband, Doug Imhoff, to ask for the last-minute vote.